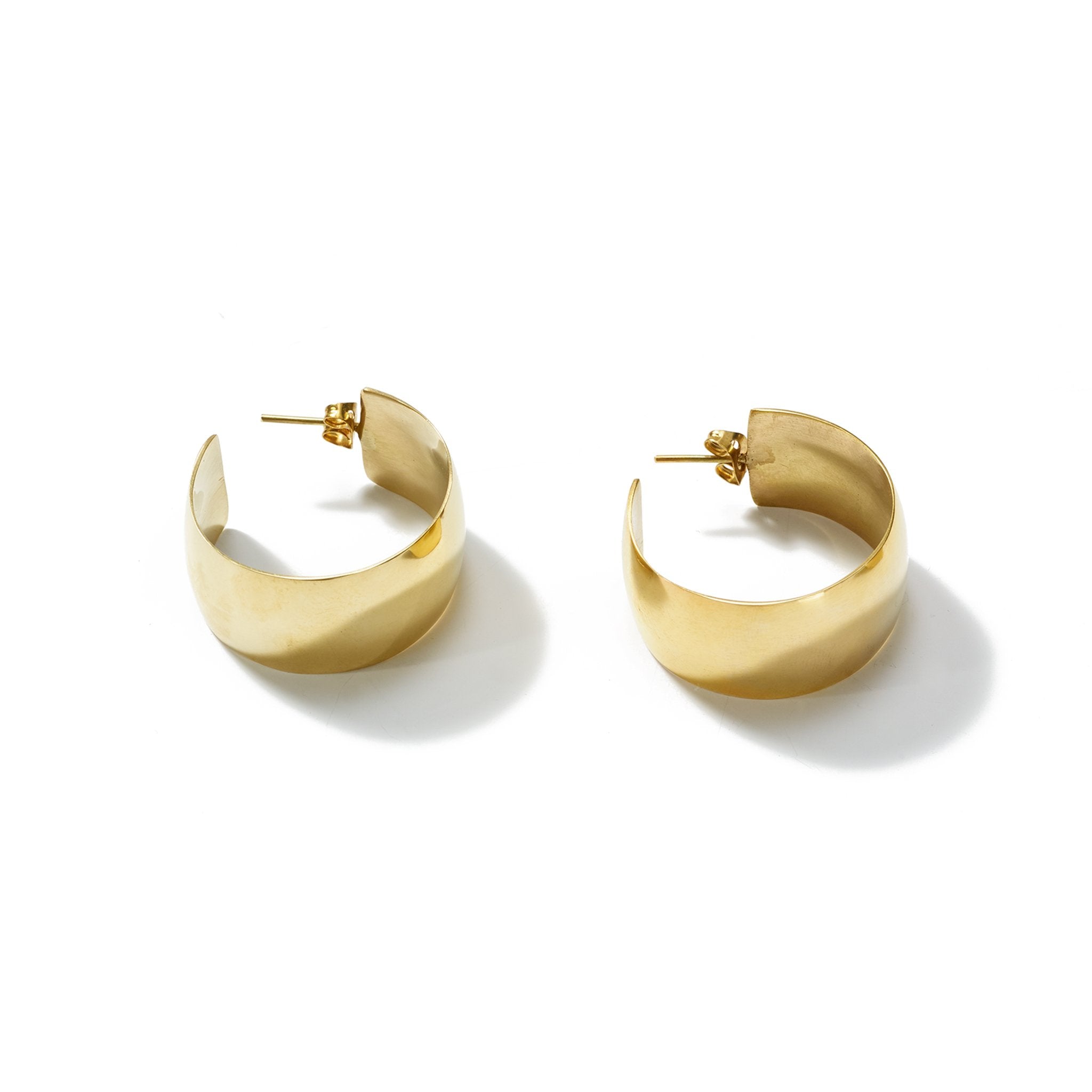 Striking and confident, the Diaz Large Hoops easily command a room with their bold curves. Inspired by Cameron Diaz's upfront style in Any Given Sunday, they make a statement. Crafted from upcycled brass in Kenya, the Diaz Large Hoops are shaped and polished by hand.
Outspoken yet understated, let your Diaz Large Hoops take centre stage with swept-back hair.
Details

Everything you need to know.

Measures 3cm in diameter.
Handcrafted from upcycled brass in Kenya.
Hypoallergenic posts and silicon backs are kind to sensitive skin.
Each pair is one-of-a-kind.
To preserve the quality and shine of your upcycled brass, we recommend polishing with lemon juice. For more info, read our care guide.
Artisans

Learn about who made this.

A Certified B Corporation and a member of the Fair Trade Federation, we are committed to responsible production. Our global network of skilled artisan partners use regionally sourced, natural and sustainable materials to bring our designs to life. Craftsmanship lies at the heart of everything we do, and we are proud to help preserve traditional crafts in communities around the world.

This piece was crafted with care by our artisans in Nairobi, Kenya. We have worked with this studio for six years. They work with upcycled or natural materials that are regionally sourced where possible.
Shipping + Returns

Learn more about our policies.

We offer a range of domestic and international shipping and free returns. Choose from standard, expedited, and next day. In addition to this, we offer same day delivery for orders placed in the local Austin area. Processing your order takes 1-2 business days. Once we've finished we'll send you a confirmation email with your tracking number to let you know it's on its way. It's that simple.