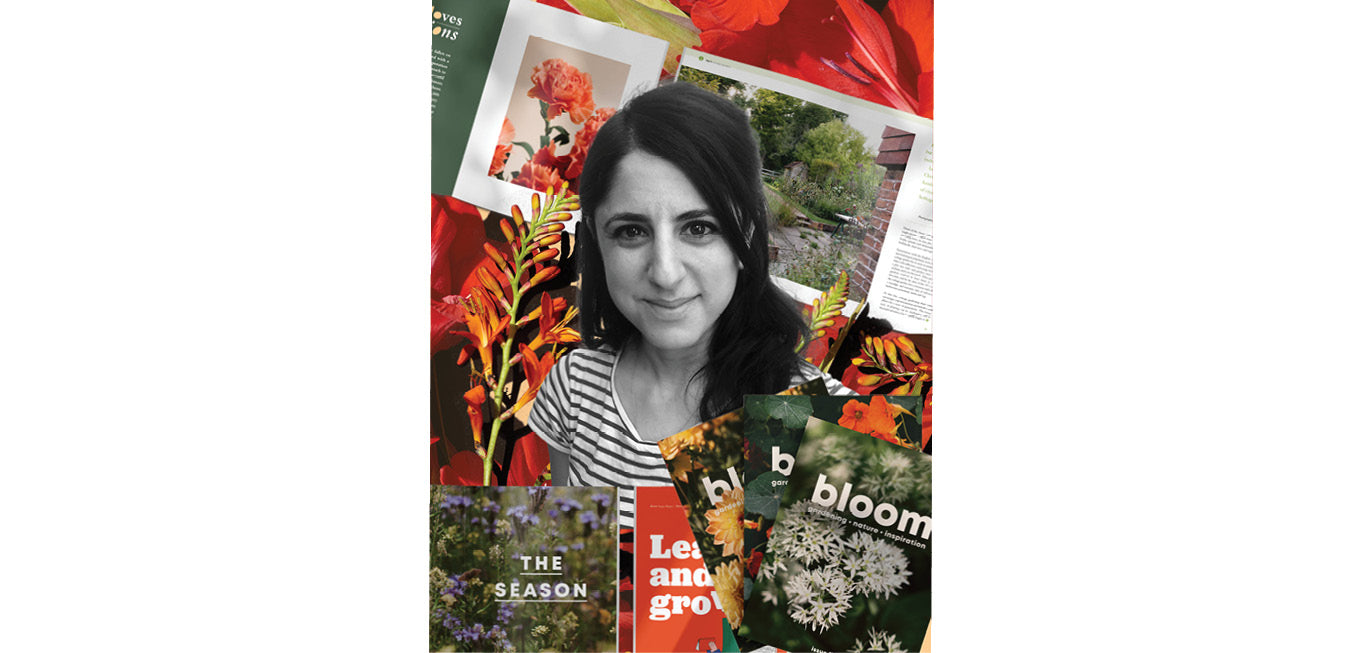 Raven + Lily in Conversation: Zena Alkayat
A series of discussions with women we love, Raven + Lily in Conversation features interviews with the women who inspire us on a daily basis. Taking a closer look at the lives and stories of our collaborators, friends and other artists we admire, we continue our conversation with the founder and publisher of Bloom, Zena Alkayat.
A beautiful and practical magazine, Bloom offers expert practical gardening advice with an exploration of the natural world and a celebration of all green spaces, whether they're in the countryside or the city, groomed or utterly wild. Founded by journalist and publisher Zena Alkayat in 2018, the idea for Bloom was born out of necessity. Zena had just moved into a house with a garden – her first – and was trying to find a magazine that would help her transform what she describes as 'a really miserable' space.
'Nothing spoke to me. There was a real lack of accessible information out there and a lack of diverse voices. I was working full time as a publisher and just thought, I can do this myself,' she explains. Now Bloom publishes three times a year and Zena tells us it's packed with the 'practical, expert information I so needed at the time – and still need! It's enthusiastic, accessible, gorgeous to look at, and full of the work and wisdom of brilliant people.' Keen to absorb a little of Zena's wisdom, we spoke to her from her garden in Walthamstow, London, about her creative process, inspirations and sage advice.
Where are your favourite gardens?
Through lockdown I became obsessed with front gardens, which you see a lot of while you're taking walks around the block. There's always something interesting growing in the cracks, on and over walls, in hanging baskets. It's great fun to peer at. I also love gardens that were once owned by artists, like Charleston and Monk's House in East Sussex, gardened by artist Vanessa Bell and writer Virginia Woolf, respectively.
Do you have any tips for incorporating more nature into our everyday lives?
One of the things that has had a big impact on my life is putting a bird bath just outside the front door. It's so happy-making watching birds taking a dip – sparrows will have a huge communal bath with all the family and it turns into a messy pool party, and starlings go it alone, but you can tell they're splashing around for fun and just loving it.
What's your creative process?
Sometimes I retreat into myself for weeks on end, not really looking for inspiration or even noticing it, and other times I'm really hungry for input and just need to see every exhibition, read every magazine, and visit every website. I seem to want to gather as much visual stimulation and information as I can, and I guess I just process that all somewhere.
Who, what and where inspires you?
So many amazing women inspire me – all the incredible gardeners/ecologists/conservationists out there – too many to name, characters on TV (Moira from Schitt's Creek is a hero), creative women I've worked with in publishing, and any woman who is brave enough to publicly fight for what's right or say something that needs to be said. I constantly strive to be that woman, but until then there are luckily lots to look up to. Truth inspires me, if that doesn't sound too naff. And the outdoors is where the good stuff is – sometimes it's hard to leave my desk, but when I do, it's always inspiring.
What are some of your favourite independent magazines?
I love Lunch Lady, which is for families and parents – I don't have any children, but it's just the most vibrant, informative and fun magazine. It's Australian, which is also cool, as you get a bit of an insight into another culture. I also read Kinfolk and Courier pretty regularly, and every couple of months I buy lots of new ones. The last ones I bought were Eaten and Sirene.
What do you keep on your desk?
A Bloom candle, stacks of Bloom back issues for reference, my diary, a notebook, water, three oxalis (wood sorrel) plants and one out-of-control pilea (Chinese money plant). I'm somehow always looking for a pen that works.
What's the best piece of advice you've ever received?
Find what feels good – anyone who follows Yoga With Adriene will know what I mean.