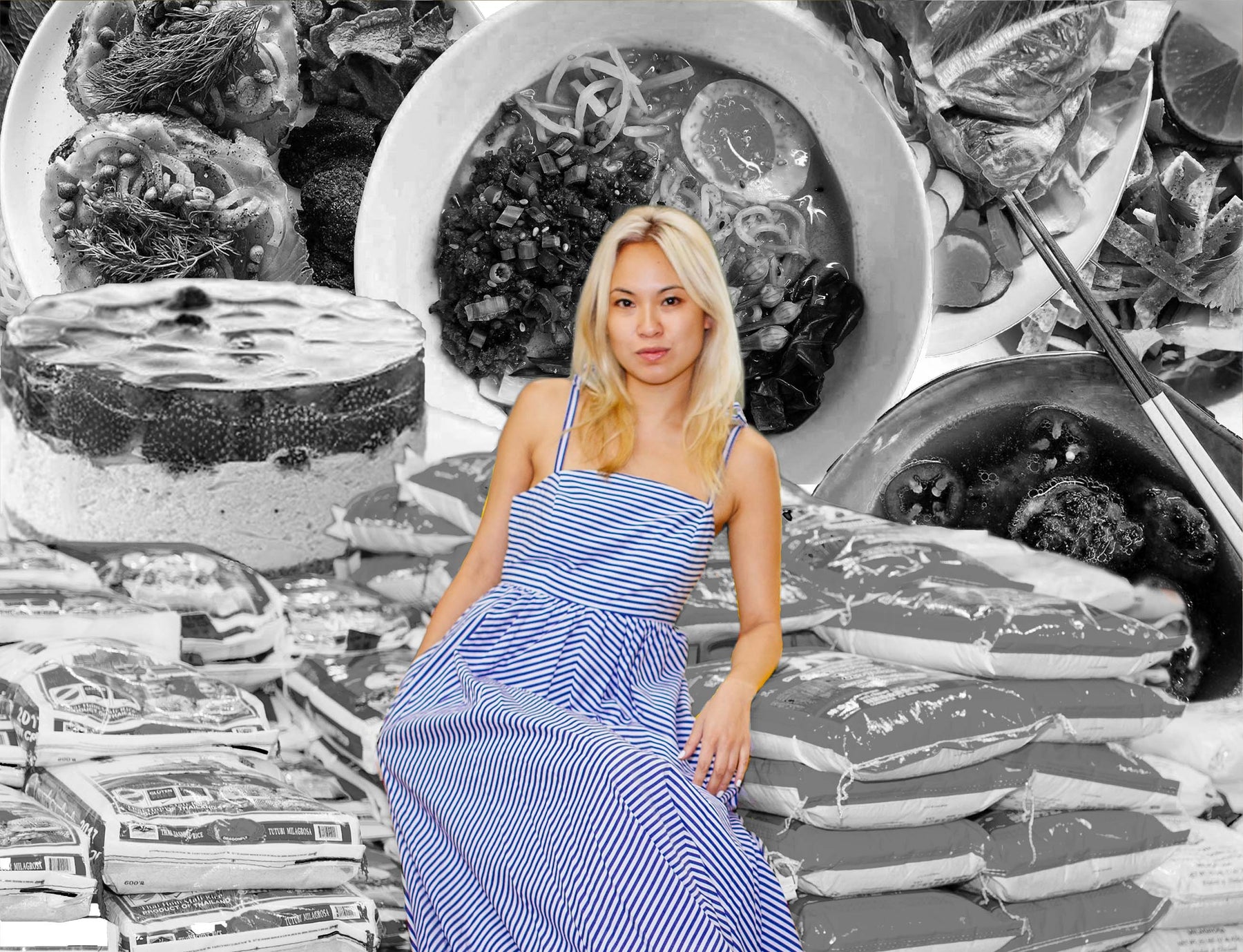 Raven + Lily in Conversation: Deana Saukam
A series of discussions with women we love, Raven + Lily in Conversation features interviews with the women who inspire us on a daily basis. Taking a closer look at the lives and stories of our collaborators, friends and other artists we admire, we continue our conversation with Deana Saukam, the creator behind the addictive food and travel Instagram account, Faim Fatale.
With more than 29k followers, @faimfatale has been named one of the 'must follow' accounts in numerous publications including Food & Wine, Food Republic, Thrillist, LA Confidential, Austin Monthly and Worldwide Traveller. 
Born and raised in Houston, Texas, Deana has called Paris and Austin home, and currently resides in LA. Her travels have led to rich culinary experiences that rival many top chefs, feasting on everything from Thai-spiced grasshoppers to Parisian éclairs, fresh-caught fish from Tsukiji in Tokyo, and Maldivian egg curry in the Maldives. 
We spoke to her ahead of Thanksgiving to find out which dishes remind her of the holidays, how she celebrates with - or without - friends and what her go-to gifts are. Read on for her favorite strawberry lemon jelly Japanese cheesecake recipe.
How did Faim Fatale start?
I started Faim Fatale 11 years ago as a fun Instagram account. My first post was on one of my favorite restaurants in Houston, Thien Thanh Banh Cuon, which is a little mom and pop hole-in-the-wall Vietnamese restaurant that specializes in banh cuon. I literally had no idea how big Instagram would become or what Faim Fatale would later transform into at the time. 
Your work has taken you across the globe - where are some of your favorite destinations?
I've been fortunate to travel all over the world for work, including Cambodia, the Maldives, France, Copenhagen, Italy, Japan, Morocco, Guatemala, Singapore and Australia, to name a few countries. It's been wild. I can't wait to get back out there and safely travel again. 
How do you usually celebrate Thanksgiving?
With lots of food, family, friends and naps - just like everyone else. Last year, during the pandemic, I was lucky enough to spend Thanksgiving with one of my best friends, Mei Lin, who is an incredible award-winning chef and wonderful human being. She prepared a feast: her famous black pepper cheddar biscuits with honey butter, sausage stuffing, smoked turkey collard greens, green bean casserole, mashed potatoes and gravy, roasted turkey, natural gravy, cranberry chutney, buttermilk pie and spiced tres leches and pumpkin trifle. I was in heaven. This year for Thanksgiving, I'll be heading to Palm Springs for a week to soak up the sun poolside for some much needed R&R. 
What are some of your favorite dishes to cook over the holiday?
I love whipping up a batch of Cambodian noodle soup, Kuy Teav, it's just so comforting and delicious. Turkey is always a must, as well as ham, casseroles, and lots of cookies, cakes and pies. My mom would always bake Pecan Tassies from scratch so those always remind me of the holidays too. 
Do you have any tips for hosting a digital dinner party if you can't be with friends or family?
Always decide on a theme and get dressed for the occasion! Make sure you have a fun playlist ready and lots of champagne.
Do you have any go-to gifts?
Anything Raven + Lily! I've also recently been gravitating towards Bodha's Smokeless Incense, Inn Beauty Project's Lip Glosses, any and all of the Boy Smells candles, and Herbivore's Coconut Milk Bath Soak as gifts, all of which are in my daily personal rotation as well. I also think a subscription to IPSY's glam beauty bags are amazing gifts too-even if just for yourself (in addition to food and travel, I'm obsessed with beauty and skincare!).
Is there a recipe book you love to gift?
My friend Gregory Gourdet released his cookbook, Everyone's Table: Global Recipes for Modern Health, earlier this year and I think it's the perfect gift for everyone. 
Who would you invite to your dream dinner party?
Mei Lin, Whitney Jardine, Kristin Perrakis, Grayson Schmitz, Christine Doublet, Tomoko Imade Dyen and my mother - all of whom are friends of mine that I really respect and admire. If we're talking celebrities I'd go with Stevie Nicks, Tom Ford, Bob Ross, Anthony Bourdain, Norma Kamali, and ,@loveyoustepan this ridiculously cute and disgruntled happy hour loving cat  I follow on Instagram--I feel like he is unimpressed by everything and it's a total mood--I love it.
Where are some of your favorite places to eat in LA and Austin?
In LA: Daybird, Angler, Ditroit, Sushi Kisen, Sonoratown, La Bicyclette, Gamboge, Found Oyster, Luv 2 Eat Thai Bistro - I'm excited to explore more places in LA now that things have opened back up. I moved back during the pandemic and haven't been exploring the dining scene as much as I would have liked to for obvious reasons, but I'm catching up! It's been a while since I've been back to Austin and I'm excited to check out all of the new places that have opened since I've been gone. Until then, I'd say, Better Half, Sapps, Suerte, Franklin BBQ, Musashino, Valentina's Tex Mex BBQ, Veracruz All Natural, and Gelateria Gemelli are a few of my Austin favorites. Small Victory and Nickel City are always fun stops too for cocktails and snacks. On my radar to check out when I'm back in Austin: Nixta Taqueria, Birdies, and Interstellar BBQ.
Deana's Strawberry Lemon Jelly Japanese Cheesecake Recipe
'This is a real crowd pleaser - I use Harry's Berries, the best strawberries! Bonus: when you've finished making it you can recycle the lemons and use them to restore shine to your brass jewelry. All you need to do is mix one part water with one part lemon juice, soak your brass in the solution for five minutes, and then rinse thoroughly with water. Leave it to air dry and buff with a soft cloth for extra shine.'
Ingredients
For the cheesecake:
100g biscuit
30g melted butter
200g cream cheese (approx. 8 oz)
90g sour cream (approx. 3-4 tsp)
30g sugar (approx. 3 tsp)
30g milk
6g gelatin (powder) or 8g gelatin (sheets)
80g strawberry puree or jam 
200ml heavy cream
15g sugar
For the strawberry puree:
90g strawberries
10g sugar
4g lemon juice 
For the lemon jelly:
200g water
10g lemon juice
40g sugar
7g gelatin
Enough Harry's Berries strawberries to cover the cake (see photo)
How to make:
Crush 100g of cookies into small pieces, add 30g of drawn butter, mix and spread in a 15cm round mold.
Softly knead 200g of cream cheese and 90g of sour cream, add 30g of sugar, and mix further.
Add 6g of powdered gelatin (or 8g gelatin sheets) to 30g of milk and soak. Dissolve in a water bath, add to the above and mix.
Make strawberry puree. Rinse the strawberries with water, remove the shavings, cut into cubes, put in a pan, and heat with 90g of strawberries, 10g of sugar, and 4g of lemon juice. When the water comes out, remove it from the heat and use a food processor to make it into a puree.
Add 80g of strawberry puree to the above and mix. 
Add 15g of sugar to 200ml of fresh cream, whisk loosely, add to the above and mix. Pour into a mold lined with biscuits and chill in the freezer for one hour.
Make lemon jelly. Soak 7g of powdered gelatin in 100g of water.
Put 100g of water, 40g of sugar and 10g of strawberries lemon juice in a pan and heat until just before boiling. Add gelatin from the above

and dissolve. Cool by exposing to ice water.
Wash the strawberries and place them on top of the strawberry jelly. Pour about half of the chilled lemon jelly and chill in the refrigerator for 30 minutes.
Pour the remaining lemon jelly and chill in the refrigerator for two hours to complete. Enjoy!