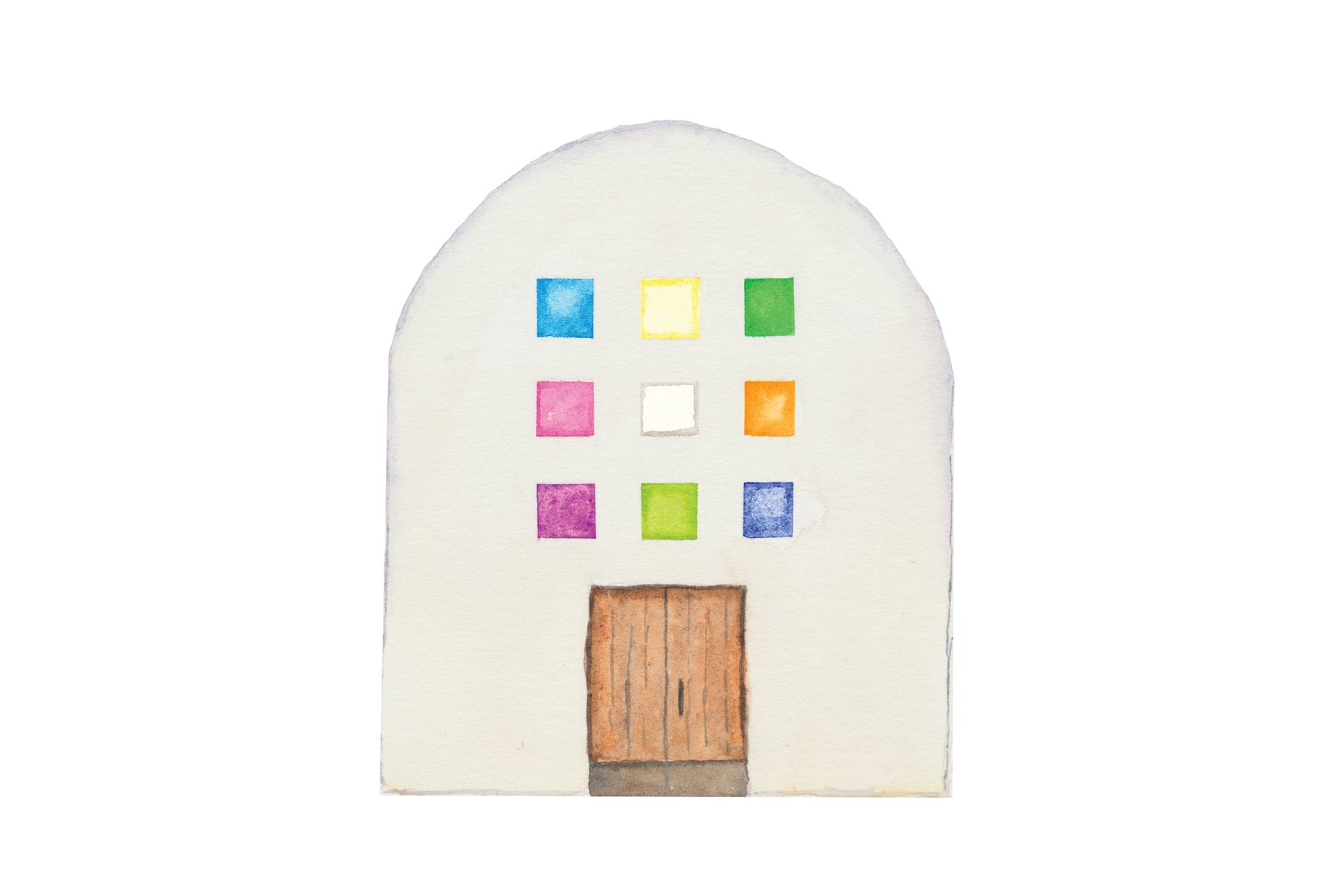 Meet the Muse: Ellsworth Kelly
"I hope visitors will experience Austin as a place of calm and light…go there and rest your eyes, rest your mind." ~ Ellsworth Kelly (1923 – 2015)
Located in our hometown, Ellsworth Kelly's 'Austin' is the artist's final work and his only building. Occupying 2,715 square feet outside the University of Texas's Blanton Museum of Art, Kelly's structure is a fascinating example of color and form, and is also the inspiration behind our Ellsworth jewelry collection. A study in shape and form, the designs pay tribute to the artist and his penchant for architecture and geometry. Handmade from recycled brass by our partners in Kenya, the collection also features upcycled white horn rings and studs made from ethically-sourced semi-precious stones that are unique in shape and size.
Kelly was one of the most important American abstract artists, known for his spectacular sculptures and colorful canvases. His bright, sunny palette and bold, geometric forms were inspired by everyday observations: the shadow of a tree, a slither of sky seen from his attic window, the contours of a building.
A testament to his otherworldly appreciation of light, color and form, 'Austin' is the pinnacle of Kelly's seven decades-long career. Honoring the artist's tradition of naming his artworks after their resting places, 'Austin' was gifted to the city in 2015, almost 30 years after Kelly had first conceived it. Envisioned as a site for joy and contemplation, the artist never really believed the work would be built. But the Blanton Museum of Art was able to help raise the $23 million needed to make it a reality, and construction started two months before Kelly's death. 
The finished building is a cornerstone of the Blanton's permanent collection and attracts visitors from around the world. Although it is closed at the moment, the museum is running #MuseumFromHome – allowing art lovers to explore the collection anytime, anywhere. You can take an in-depth, behind-the-scenes tour of Kelly's 'Austin' by visiting their site here. 
Discover our Ellsworth-inspired jewelry collection here. 
Illustrations by Kathy Phan
Kathy Phan is a pet portrait, illustration, and letter artist based in Austin, Texas. Her @kathyphantastic products include watercolor pet portraits, pet portraits on ceramics, paper goods, stickers, and magnets.