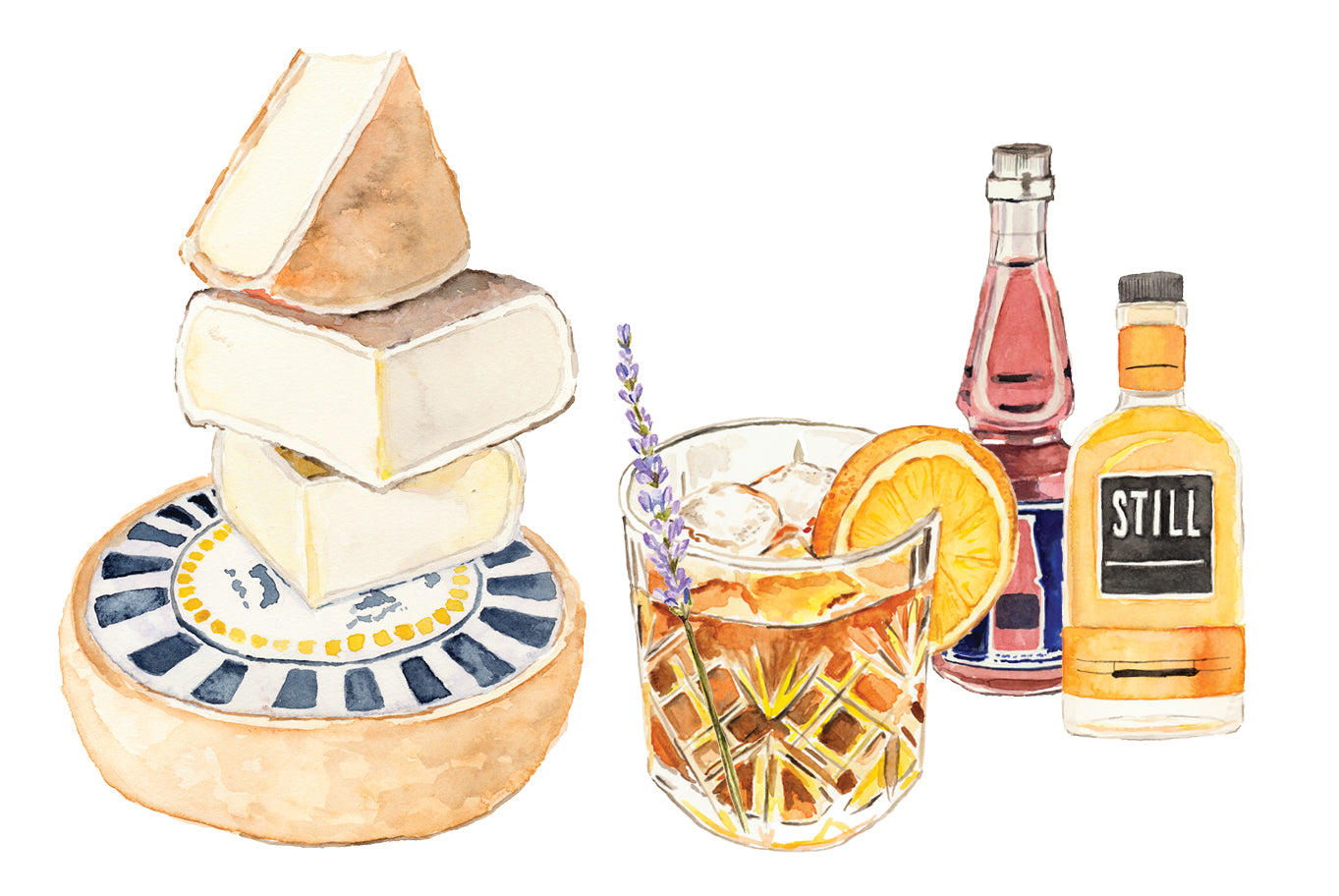 Made in Austin
If you read our last post, you'll know that we're doing all we can to help support our local community in Austin, Texas during this uncertain time. We love our neighbors and we think you will too. Whether it's purchasing gift certificates, ordering delivery or takeout, small businesses still need you. If you can, help keep them afloat by continuing to shop with them.
We're supporting local Austin restaurant Olamaie, who have made the difficult decision to close their doors. You can still buy a gift card with them online and help them to continue to pay their staff. Their Beverage Director, Erin Ashford, has created a new cocktail, Miles and Miles of Texas, which can be made with ingredients available to purchase at Austin Wine Merchant, who are offering curbside pickups at their 6th Street location (along with their amazing wine selection, available to browse online). Antonelli's Cheese shop co-founder Kendall has selected cheeses to pair with the drink, which you can order online or on the phone and have delivered or pick up curbside. Antonelli's are also offering virtual cheese tasting classes and deliver anywhere with UPS. 
Let's continue to take care of each other and our communities and remember, we're all in this together.
Miles and Miles of Texas Recipe 
Ingredients
1 1/2 oz. Still Austin Bourbon 
3/4 oz Cappelletti Aperitivo 
1/2 oz. Grapefruit juice
1/4 oz. Naranja Orange Liqueur 
1/4 oz. Lemon juice 
1/4 oz. Homemade demerara sugar syrup 2:1 
1 dash Scrappy's Lavender Bitters 
Method
To make the demerara syrup, combine two parts demerara sugar to one part hot water in a small sauce pan. Stir until the sugar is dissolved and let cool. If you don't have demerara sugar to hand, try using brown sugar instead.
Add the cooled syrup to the other ingredients and shake well. If you don't have a cocktail shaker, try using a mason jar to shake it up.
Strain the mixture over ice into a rocks glass (or re-use the mason jar) garnish with a sprig of rosemary and grapefruit peel.
Antonelli's Pairings
Brabander Gouda -- made exclusively from the milk of Saanen goats in the Brabant region of Holland, this gouda is hand selected by Betty Koster and aged in a slightly warmer, ambient temperature in order to develop a filler flavor and dense paste. Flavors of hazelnuts and buttered sourdough bread dominate and cut ever so slightly with a hint of lemon rind and caramel 
Flory's Truckle -- many old English cheddars are made in a cylinder shape, or 'truckle.' This domestic version from Milton Creamery in Missouri is wrapped in cheesecloth, coated with lard, and then aged at least twelve months. This treatment allows the cheese to breath during aging, resulting in a dry, crumbly texture and deep, nutty flavors.
Accentuate both with dried, tart cherries.
Illustrations by Kathy Phan
Kathy Phan is a portrait, illustration, and letter artist based in Austin, Texas. Her @kathyphantastic products include watercolor pet portraits, pet portraits on ceramics, paper goods, stickers, and magnets.