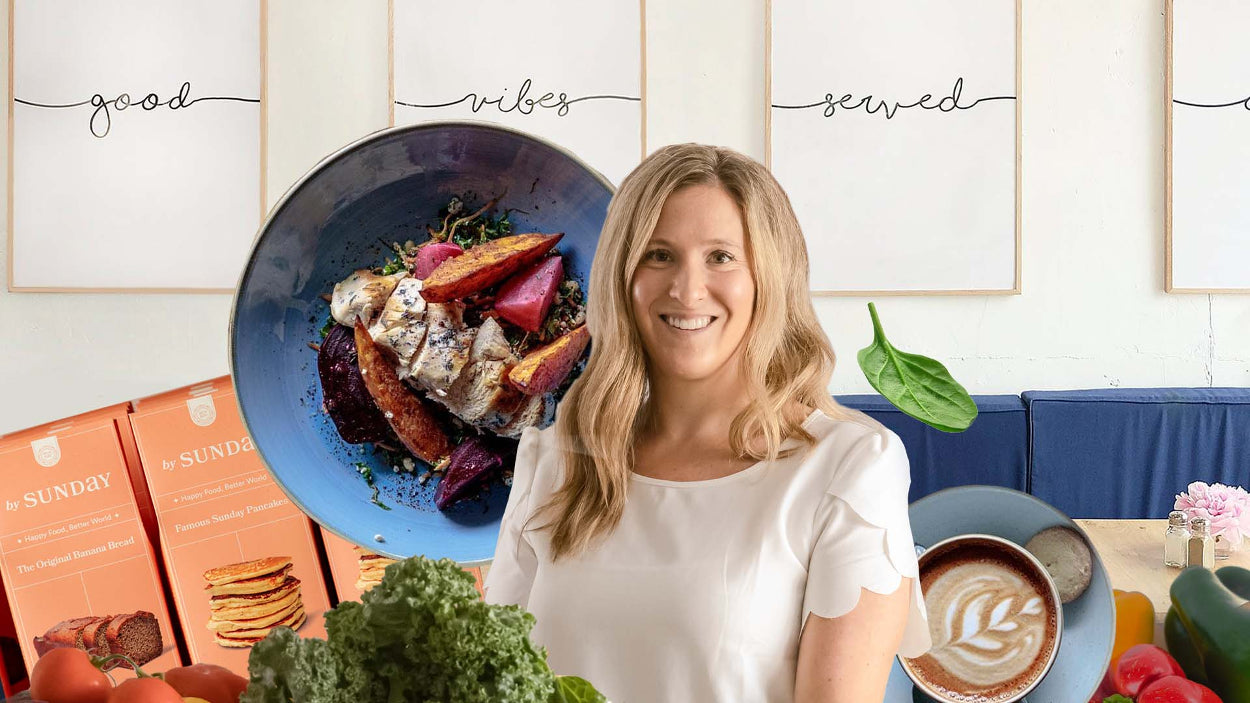 Friends of Raven + Lily: Meet Isabelle Cote from Sunday in Soho
On the corner of a picturesque square on the Passage des Panoramas, Sunday in Soho welcomes discerning Parisians with the promise of good food and good company. Run by husband and wife duo Alieu Terry and Isabelle Cote ­– New Yorkers who made the transatlantic move in 2015 – the restaurant pledges another thing: to fill someone's day with joy.
Sunday in Soho serves up a fresh slice of American cuisine to the informed palettes of the French, with menus described by Alieu as "unpretentious food that's knock-out delicious". The couple's love of hosting dinners and intimate brunches is a ritual Raven + Lily share. For us, mouth-watering plates are best shared with friends and family. We connect with their love of candle-lit meals, simply and beautifully-laid tables, and serving fresh, seasonal food that grows as nature intended. Having recently reopened Sunday in Soho after the restaurant's refresh, we speak to Isabelle about her culinary inspirations and advice on the perfect meal at home. 
Make everyday meals a culinary pleasure
 "We're not very formal in our approach," says Isabelle, a former global director at a luxury fashion house. "We love having friends over for great food and wine in a casual setting. As long as you have good wine and good conversation, it's always a success." Isabelle and Alieu, who started Sunday in Soho after seeing a gap in the local market for simple seasonal food, have a few favorite meals up their sleeve to serve up to loved ones. "Slow roasted lamb or pork with different sides of veggies, salads or crispy potatoes," she reveals. "Or we love to grill in the summer - anything from fresh fish to homemade burgers!"
Shape your own path
"When we moved to Paris we spent three months in a temporary apartment where we had no kitchen," Isabelle recalls. "So we had to eat out for every meal. It might sound like a dream but it was actually really hard. There was so much that we missed from all the healthy and delicious food options you can find in New York. And we couldn't find it, so we decided to create it." The couple took a risk and opened Sunday in Soho in 2018 knowing they weren't restaurateurs (they claim they still aren't). They are, however, passionate about putting smiles on faces, building community and changing the status quo on food. "We wanted to create a place with good vibes and friendly service - which is not always the norm in Paris." 
Eat as nature intended
Isabelle and Alieu, an ex Wall Street trader, lure gourmands into Sunday in Soho with what's growing in season and cooked with the cultures and flavors that make New York such a vibrant culinary destination. "We sell food for every type of diet and lifestyle as well as wellness essentials," explains Isabelle. "Sunday in Soho has tons of health options as well but some indulgent ones too - our vision for the restaurant is 'food for every mood'." 
Send your taste buds on global travels
Sunday in Soho serves American flavors to France via a host of global destinations. "Experiencing the world through food is our very favorite thing," Isabelle confirms. "There are so many places we've totally fallen in love with and are so inspired by: Turkey, Vietnam, Greece and Italy are probably our biggest sources of inspiration when it comes to food. But also New York and LA are hard to beat."